Freska Produce Fair Trade USA Gains Momentum
The growing prevalence of Fair Trade USA across the industry is a program anyone can get on their feet and cheer about. Helping to drive that cause forward is Freska Produce International, a company that has seen, first hand, how the Fair Trade USA certification has impacted its business. Fair Trade USA certified goods are produced according to rigorous social, environmental, and economic standards, so the consumer can make a huge difference in the lives of workers all over the world by purchasing products that go through this rigorous and coveted certification.
"We are now seeing employees with exceptional skills coming to our plants seeking employment," said Partner Jesus "Chuy" Loza. "These employees are seeing the benefits of Fair Trade USA and how it is changing the atmosphere and the culture of our operations."
Freska Produce, one of the largest Fair Trade Mango shippers in the U.S., has gained Fair Trade USA certification at its Mexico packinghouses over the past two years, according to a press release. Now, the company is feeling the benefits of Fair Trade USA throughout the company.
Loza further commented, "The happiness and value our employees feel can truly be sensed in the product we bring to market."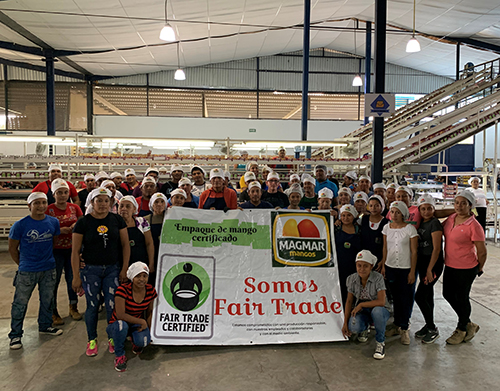 With mangos produced in Mexico now bearing the Fair Trade USA certification logo, the company will be able to help ensure that basic human rights for farmers and workers are enforced. Additionally, farmers and workers earn extra money with every sale.
"This higher wage has seen a rate of return in the plant that corresponds to the happiness of our employees and their eagerness to return to our operations, day after day. Some individuals even come to the packinghouse to seek out work from neighboring communities," said Miguel Allard, Owner of a packing plant Freska works with in Chahuites, Oaxaca, Mexico.
This message of Fair Trade USA, as well as the certification and impact across the world, would not be possible without the support of U.S. retailer partners, Freska shared. Fair Trade USA has provided Freska an opportunity to deliver the benefits of trade more broadly with its focus on inclusion and empowerment. The certification also shows the industry and the consumer that the production of fresh produce can and must be more equitable.
"Seeing the benefits of this program in the form of proud and content employees that are being empowered through fair and equitable wages, has provided the proof we were seeking when we got into this," stated Loza.